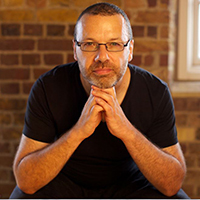 Mo left school at 17 to join the London music industry, against careers advice warning that he should 'get a proper job' …
Gifted with an ear for deep and detailed listening, and intrigued by human behaviour and artful self-expression, Mo has worked with top performers, artists and leading creatives from around the world for over 30 years, successfully helping them extract their unique brilliance, path and purpose, to live aligned and embodied in their greatest personal and professional potential.
20+ years in the London music industry as a musician, freelance recording engineer and music producer, eliciting ever better performance and expression from international recording artists, alongside 10 years as an international trainer/assessor for industry qualifications in music production and multi-track recording.
15+ years producing digital media and over 300 world-class live events (thousands of hours of trainings) with highly-acclaimed International speakers, authors and leaders in business, relationship and spirituality, including Anthony Robbins, Dr. John Demartini, and currently as audio producer and workshop assistant with David Deida, author of 'The Way of the Superior Man' (more at AskTheAVPro).
This time immersed in thousands of hours of intensive, high-level trainings (worth hundreds of thousands of dollars) was a period of massive growth, with the opportunity to observe, experience and learn from the deep and profound work of the worlds' best in personal, relationship, business and spiritual development.
Mo has attained 7th dan as a Black Belt instructor in traditional Japanese martial arts (Bujinkan – from Samurai and Ninjutsu lineage) including training with 34th Grandmaster Masaaki Hatsumi sensei during trips to Japan. He is also a studious practitioner of the Japanese art of  Shibari (inspired by the martial art of hojojutsu), and also has a growing global following for his distinctive sensual photography.
Now based in Australia, Mo's clients today are extraordinary entrepreneurs and leading creatives from all over the world, already highly successful, yet seeking something more – deeper personal fulfilment, to serve with more meaningful impact, to live a truly embodied life, to enjoy greater freedom, authenticity and alignment in everyday interpersonal engagement, purposeful business, open-hearted relationship and deeply connected sexual intimacy.
Mo has built a truly unique lifestyle business, deeply aligned to his values and passions, he shares an extraordinary, playful and passionate relationship (and business) with his partner Lisa Page, and works with clients from around the world to do the same.